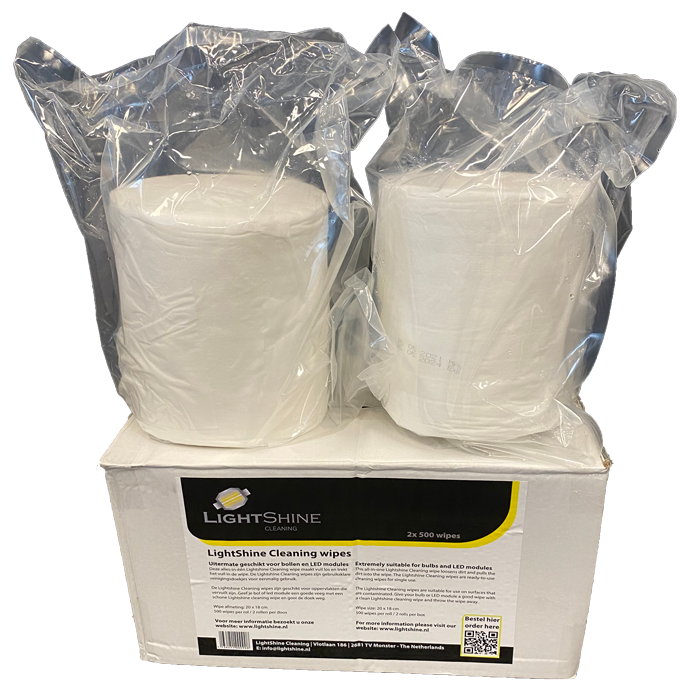 LightShine Cleaning wipes
LightShine Cleaning wipes
Extremely suitable cleaning wipes for bulbs and LED modulesThis all-in-one Lightshine Cleaning wipe loosens dirt and pulls the
dirt into the wipe. The wipes are ready-to-use cleaning wipes for single
use and suitable for use on surfaces that are contaminated. Give your
bulb or LED module a good wipe with a wipe and throw the wipe away.
BOLcleaner
LightShine Cleaning has developed BOLcleaner for the manual cleaning of the lights in the fittings. Cleaning the light bulbs using our cleaning cloths is very easy. LightShine Cleaning BOLcleaner can be purchased per jerrycan of 10 or 25 litres. We also developed ready-to-use BOLcleaner wipes. BOLcleaner has been added to the soft wipes. Thanks to the special packaging, the wipes remain moist thereby ensuring that BOLcleaner liquid retains its cleaning effect. The advantage of the wipes is that you no longer have to spray the light bulbs separately.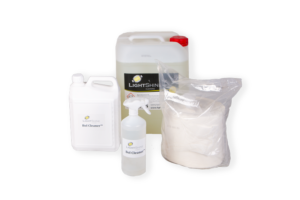 25 liter – 10 liter – Spray 1 liter – Wipes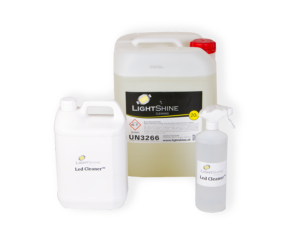 25 liter – 10 liter – Spray 1 liter
LEDcleaner
LightShine Cleaning has developed a special cleaning agent for LED lighting in collaboration with Philips, for the manual cleaning of LED modules. Cleaning the LED modules using our paper cloths is very easy.
Stacking sticks
A smart solution is sometimes very simple. Stacking sticks is one such example. The simplicity of a stick makes a huge difference when stacking reflectors. As a result, the reflectors are not pressed together when stacked, which allows for easy de-stacking. The stacking sticks for reflectors can be bought in bundles of 250.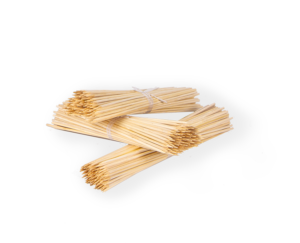 Cleaning cloths
The cleaning cloths of LightShine Cleaning are ideal when used in combination with BOLcleaner and LEDcleaner. By combining the cleaning cloths with these 2 products, the bulbs in your fittings will soon be as good as new and generate maximum light output again. The cleaning cloths can be purchased at LightShine Cleaning per box of 5,000.
The major advantage of the cleaning cloths is that you can throw them away immediately after use without having to rinse them. After all, practice shows that it is not always convenient to keep a bucket of water within reach to wash the dirt out of the cloth. A paper cleaning cloth is for single use only which means you always have a clean cloth for each bulb. This guarantees the best result.
Boxes for reflectors
To ensure safe and easy transport of stacked reflectors, LightShine Cleaning can also supply boxes if required. This allows for multiple stacks of reflectors to be moved with ease. This applies to on-site internal transport, for example, from the mobile cleaning machine to the fittings (and vice versa), as well as to transporting the reflectors to and from the LightShine Cleaning location. These boxes can of course also be used for the storage of reflectors.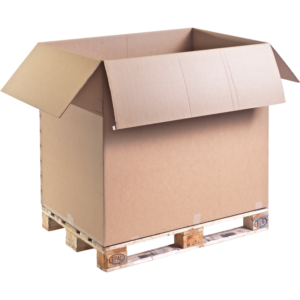 Pallet boxes for reflectors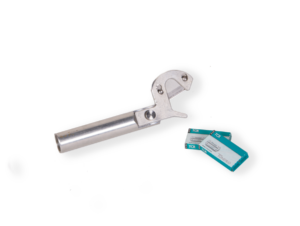 Leaf cutting blades (Tondeo)
Based on our background in horticulture, we developed leaf cutting blades in collaboration with Tondeo. These blades can still be obtained through us. Tondeo blades are very sharp and high-quality cutting blades. These leaf cutting blades can be purchased per box at LightShine Cleaning and contain 100 double-sided Tondeo blades. When used correctly, the blades will last for a considerable time. However, to keep the cuts of the tomato crops as smooth as possible, we recommend replacing the leaf cutting blades regularly. This is because the blades lose their sharpness over time.