About us
Higher translucence by cleaning fittings
LightShine Cleaning is a close-knit family business with its roots in greenhouse horticulture. Thanks to our background, we fully understand the needs of growers, but also identified opportunities for improvements. Growers were already used to cleaning the greenhouse roof once or twice a year to improve translucence, but failed to realise the gains that could be achieved by cleaning the fittings. However, Marcel van den Bogert did and started to draw attention to this opportunity of achieving maximum light output. LightShine Cleaning was subsequently founded in 2009 and its services of cleaning reflectors and lights proved to be a great success.
Continuously developing
Since its foundation, LightShine Cleaning has undergone major developments. Our company is known for its innovativeness and we are therefore always working on improving our services and products. This has resulted, among other things, in modifications to our mobile cleaning machines and even entirely new designs and concepts. Our range of services has also expanded with a view to the increasing popularity of LED lighting. In 2015, we founded CleanCarts, a company that cleans shopping cart, baskets and trolleys (store-fresh). In 2019, we then took over CleanShopping, a company located in Emmeloord, thus creating strong coverage throughout the Netherlands. For more information, please visit: www.cleanshopping.nl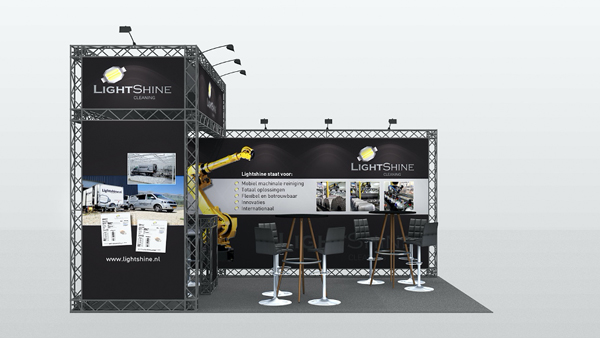 International deployment
The effective approach of LightShine Cleaning has not gone unnoticed. The demand for our services has increased not only in the Netherlands, customers from abroad are now contacting us for our services as well. In addition to the Netherlands, the mobile cleaning machines from LightShine Cleaning are now also used in:
Belgium
Finland
Poland
Germany
Denmark
Sweden
France
Canada
Russia
England
America
If your country is not listed, but you would like to know more about the cleaning options for your reflectors and lights, please contact us.
What can you expect from LightShine?
As a family business, we are close to the customer. We like to think along with you and attach great value to long-term collaboration and partnerships. Not only does LightShine Cleaning aim for the best result, but we like to go the extra mile. We will give you clear advice about the annual maintenance of your fittings and substantiate this with accurate measurements. The measurement reports are kept in dedicated customer files, so we can provide you with tailor-made advice at all times. We like to think along with you about an appropriate method to achieve and maintain maximum light reflection.
Our core values are:
a highly flexible working attitude;
an unambiguous pricing policy;
delivering highly sustainable solutions;
providing the customer with a full-service solution, where possible.
In addition to our customer-focused attitude, we are also environmentally conscious.
The mobile cleaning machines only use environmentally-friendly cleaning agents that meet all European standards and are biodegradable at the same time.